Our Health team has deep expertise in assessing policy, improving programs, and employing health information technology to address the quality, efficiency, delivery, affordability, equity, and financing of health care.
Our close, collaborative approach helps clients in both the public and private sectors not only adapt to evolving policy contexts and market conditions, but also deliver solutions that aim to improve health outcomes and reduce costs. Our seasoned experts have decades of experience collaborating with federal and state agencies that support and administer the Medicaid and Medicare programs on behalf of the country's most vulnerable populations. Mathematica's experts are pioneers and industry leaders in program evaluation, data analytics and data quality, clinical quality improvement and measurement, advanced health services research, and emerging methodologies. With this expertise, our Health team helps build the evidence base needed to inform critical health policy decisions and support clients dedicated to promoting and delivering high quality and efficient health care.
Our Impact
Making Hospital Bills Easier to Understand
The Hospital Cost Tool we helped develop presents information on how hospitals across the country calculate costs, charges, and break-even points. It offers individuals, employers, and policymakers a new, clear way to understand how health care systems set their prices and why.
Learn More
Evidence & Insights in Health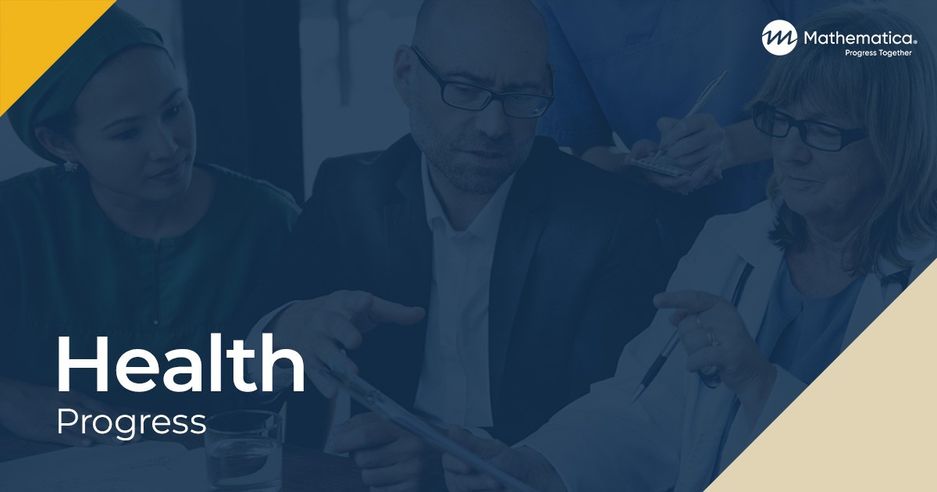 Publication
Barriers and Facilitators to Implementing Patient-Reported Outcome Monitoring in Gastrointestinal Surgery
More than 30% of patients experience complications after major gastrointestinal (GI) surgery, many of which occur after discharge when patients and families must assume responsibility for monitoring.
Learn more
Solutions
Progress is best made together.
Partner with us at the intersection of data science, social science, and technology to progress from inquiry to insight to impact. Our evidence-informed solutions empower you to see clearly and act quickly.
Partners In Progress
Christopher Trenholm
Senior Vice President; General Manager, Health
View Bio Page
Erin Taylor
Senior Vice President; Managing Director of Health Policy Assessment
View Bio Page
John Schmitt
Senior Director, Business Development
View Bio Page
See Clearly. Act Quickly.
We can help you shine a spotlight through the dark. Get in touch to learn more about how Mathematica could help advance your mission.
Explore Partnership