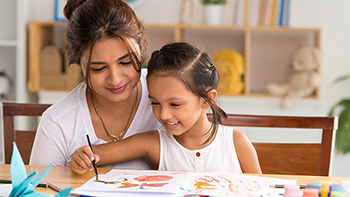 Two new research briefs use recent data from the Head Start Family and Child Experiences Survey (FACES 2014) to explore characteristics of children enrolled in Head Start and the leaders and teachers who guide the programs.
In the first brief, researchers examine the family background and developmental progress of Head Start children as they complete one program year (from fall 2014 to spring 2015). Focusing on children's growth in cognitive skills, social-emotional skills, and executive function during the program year, data reveal that Head Start children make progress during the program year in receptive and expressive vocabulary, letter-word knowledge, and early math skills. However, in both the fall and spring, children still perform lower on language, literacy, and math skills, on average, than children of the same age nationally. One exception is the developmental skills of some dual-language learners—specifically, children whose primary language at home is Spanish score above norms in conceptually scored expressive vocabulary in both fall and spring.
The second brief describes the characteristics of Head Start programs, leaders, and teachers in five areas: (1) structural characteristics of Head Start programs and centers; (2) directors' education and experience and the areas directors say they need more support in order to lead more effectively; (3) education, credentials, and experience of Head Start teachers; (4) training and mentoring Head Start teachers receive; and (5) use of curriculum and assessment tools in classrooms, time spent in instructional groups, child to adult ratio and group size, and observed classroom quality. According to the data, mentoring is a common professional development practice: nearly three-quarters of Head Start teachers (74 percent) report having a mentor.
FACES is conducted by Mathematica with funding from the U.S. Department of Health and Human Services, Administration for Children and Families, Office of Planning, Research, and Evaluation. Read more about FACES.