Moving Medicaid Data Forward, Forum 2: Medicaid Enrollment—Overview and Data Sources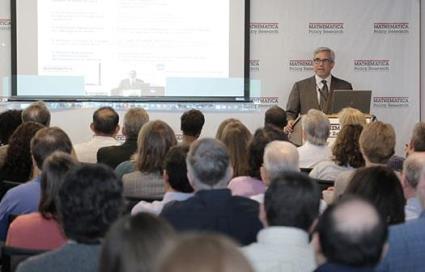 The Affordable Care Act, the 2008 recession, and a continuing transition to community-based care are just a few of the events and circumstances that have impacted Medicaid over the past decade. Now, a new Congress and administration brings another discussion of major changes in Medicaid and health care as a whole. Where does Medicaid enrollment stand in the midst of these changes? What are the methods and data sources that are used to conduct research into the enrollment levels of different states and populations?
Enrollment is a fundamental measure in Medicaid; changes in enrollment affect budgets, program administration, and ultimately health outcomes. Productive discussions of Medicaid policy are only possible through an understanding of enrollment research and available data.
Mathematica covered enrollment research on Medicaid for the second installment of the Moving Medicaid Data Forward forum series. Presentations included:
An Overview of Medicaid Enrollment: Robin Rudowitz, Kaiser Family Foundation
Data Sources for Medicaid Enrollment Research: Maggie Colby, Mathematica
A moderated Q&A session will follow the presentations. Our expert panel will also include:
Craig Thornton, Mathematica (moderator)
Thomas DeLeire, Georgetown University