On November 18 and 19, McCarter Theatre will present the Princeton & Slavery Plays, seven new works commissioned as part of Princeton University's Princeton & Slavery Project. The plays are based on research led by Professor of History Martha Sandweiss into Princeton's connection to slavery, and they include pieces by McCarter Theatre Artistic Director Emily Mann and MacArthur Genius Fellow and Princeton alumnus Branden Jacobs-Jenkins. As part of our commitment to arts and community, Mathematica is proud to be a sponsor of the Princeton & Slavery Plays. We spoke with Emilia LaPenta, most recently literary director of McCarter Theatre, to learn more.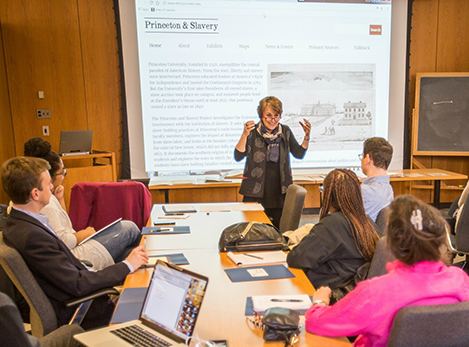 How did theater become part of the Princeton & Slavery Project?
When we heard about the research, we knew McCarter had to be involved. The Princeton & Slavery initiative speaks to both Emily Mann's artistic mission and to the role of a cultural institution within a community—hyper local and far reaching. We commissioned a group of seven playwrights whose work we deeply admired and brought them to Princeton for an orientation day with university scholars. One of our playwrights played devil's advocate and asked the group: "Why does it matter that we're doing this project?" That was the question that really got us started. We grappled with it all afternoon. It made us bring the past into the present.
So, why do these plays matter?
The Princeton & Slavery Project is filling in gaps of history, requiring us to appreciate a bigger, more complex picture of Princeton's founding. These details are important because they help us better contextualize the current moment. The research addresses this, of course, but where historians are bound by fact, artists are able to take license to fill in narratives that focus on character, on catharsis, and on empathy. I believe it's good to tackle a subject in a variety of mediums—the hope is that our plays will unlock this history in a new way.
Is there a thread that runs through all seven plays?
We consciously selected a group of writers with different voices and styles, and the resulting work reflects this diversity. Some wrote period pieces, while others set their plays in 2017. Many are telling stories of individuals who have not been recognized in an official capacity before; others are exploring legacy from a new perspective. I think all are wrestling with ideas of history, privilege, and responsibility. But there's a positive energy and forward motion to all of the plays; this project isn't about shame. It's about growth, understanding, and change.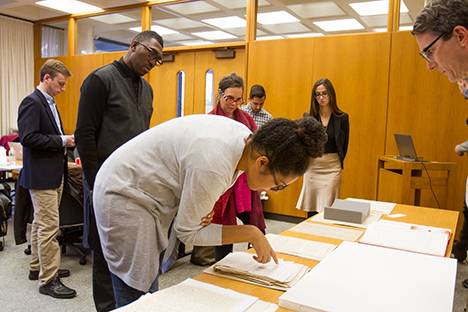 What characters do we meet along the way?
There's a great array of characters across the plays—some familiar names, some decidedly less so. Two writers chose to examine the story of James Collins Johnson, an escaped slave who was employed by the University until he was recognized by a student and put on trial. Betsey Stockton was once a slave belonging to the well-known Stockton family; Richard Stockton signed the Declaration of Independence. And Robert Stockton, who negotiated the treaty that lead to the founding of Liberia, makes an appearance, as does Princeton's sixth president, John Witherspoon. In the hands of these playwrights, the history all feels very much alive.
Do these voices fit into a larger national conversation on race?
We'll find out. There's always an element of discovery in live theater, and I'm eager to see what resonates with our audience. Princeton is not the first large institution digging into its history and the findings of other colleges and universities have already fed into conversations about race on campus, a complicated and important topic. And it's impossible to have a conversation about race on campus without engaging with a larger conversation about race in this country.
Is there any connection to public policy?
I don't know if it's the responsibility of theater to inform policy, but the potential is there. Art and theater—and this project in particular—have the capacity to raise awareness and build empathy. It allows for the experience of, perhaps for the first time, understanding what another person in circumstances different from your own might be going through. That is very powerful. And having that experience in a room full of other people—not alone watching television or plugged into headphones—multiplies the impact. I believe it can change the way people maneuver in the world.
Should we let one of the playwrights have the last word?
Absolutely. This is from the end of Dipika Guha's play, Elizabeth:
The light is old.
Trapped beneath
Rocks and sediment
Ripening like diamonds.
The Princeton & Slavery Plays are at McCarter Theatre in Princeton, New Jersey, on November 18 and 19. For tickets and more information, visit http://www.mccarter.org.