e2i Coach
Evidence to Insights Coach
An evidence-generating platform that helps stakeholders make more informed decisions and improve program outcomes
Schools, government agencies, and nonprofits navigate a complex landscape of products, data, and evidence to improve programs, but compliance requirements and resource constraints present obstacles along the way. Research insights lag behind everyday decision-making needs. And studies don't always get at the heart of what stakeholders need to know—what will make the biggest impact for the communities and individuals I serve?
We get it: Every organization serves unique communities with distinct challenges. That's why we developed the e2i Coach, a free online platform to help you design evaluations and generate evidence about what's working in your unique context. Using an educator-driven research process, the e2i Coach helps changemakers like you get the evidence you need, when you need it, to make everyday decisions.
Get the answers you need to improve your programs.
Log into the free e2i Coach platform now and start researching what practices and programs will work best for your beneficiaries.
Get Started
Get the answers you need in five steps:
The Coach recommends an approach to evaluate your program or practice.
The Coach helps you design an evaluation based on the outcomes you are interested in and your unique context.
The Coach creates two groups with your data — a treatment group and a similar comparison group.
The Coach automatically conducts your analysis.
The Coach will compile your results and the information you have entered into one succinct report.
See How It Works: Watch the e2i Coach Demo
Webinar
Refine Your Remote Learning Strategies with the e2i Coach
This webinar from the Regional Education Laboratory Mid-Atlantic discusses the e2i Coach, a free tool that districts and schools can use to test and identify—in real time—which online learning approaches work best for their students.
EVIDENCE & INSIGHTS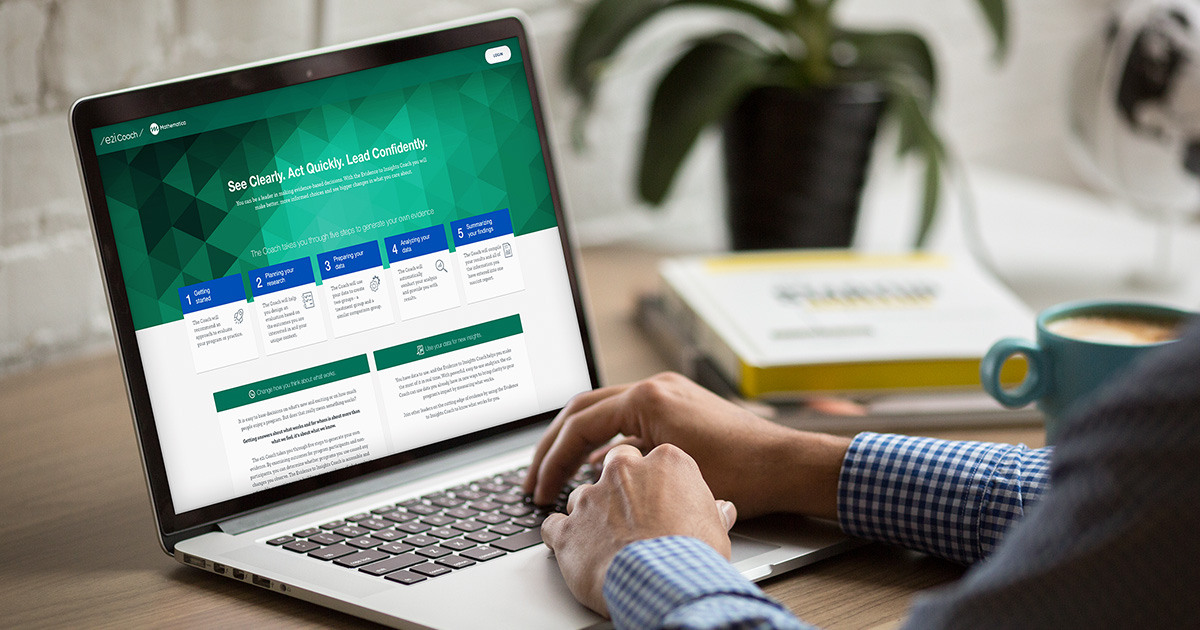 Blog Post
Amid Widespread Remote Learning, Educators Can Adapt Through Data and Evidence
Across the country, educators and parents are grappling with a new reality: remote learning with an indefinite end date.
Learn more
Related Solutions
Let's make progress together.
Partner with us at the intersection of data science, social science, and technology to progress from inquiry to insight to impact. Our evidence-informed solutions empower you to see clearly and act quickly.
CONTACT US
So we can help serve you better, please complete the form below. We will respond as soon as possible, usually within a few business days.