Kindergartners' Skills at School Entry: An Analysis of the ECLS-K
Associated Project
Prepared for:
Sesame Workshop
Key Findings
44 percent of children enter kindergarten with one or more risk factors based on their home environment.
These risk factors are incrementally associated with lower school readiness scores for children than for those with no such circumstances.
Despite an increase in programs to level the playing field by giving disadvantaged children opportunities for preschool education, these gaps persist.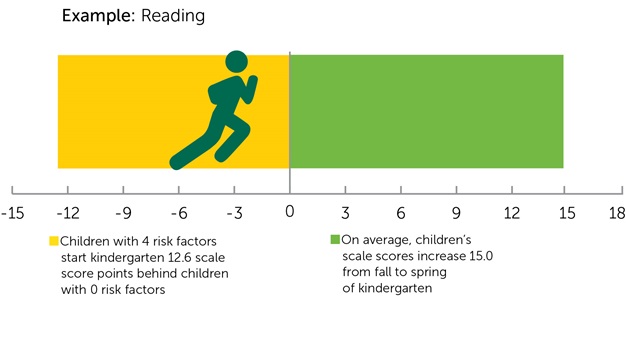 This report provides an analysis of the Early Childhood Longitudinal Study, Kindergarten Class of 2010-11, focusing on the school readiness and abilities of beginning kindergartners.
The analysis examined four risk factors that have been shown to affect children's development and school achievement: single parent households, mothers with less than a high school education, households with incomes below the federal poverty line, and non-English speaking households. High-risk children (those with all four risk factors) were found to be almost a year behind their peers with no risk factors in their reading and math abilities.
The researchers also created composite readiness scores based on teacher ratings of children's academic and social skills. Based on the researchers' calculation, less than one-third of children were rated by teachers as "in-progress" or better on both reading and math skills.
See Clearly. Act Quickly.
We can help you shine a spotlight through the dark. Get in touch to learn more about how Mathematica could help advance your mission.
Explore Partnership