A proposed rule from the United States Department of Agriculture (USDA) that would eliminate the Supplemental Nutrition Assistance Program (SNAP)'s broad-based categorical eligibility (BBCE) would cause SNAP households in 39 states, the District of Columbia, Guam, and the U.S. Virgin Islands to lose program eligibility, according to an impact assessment conducted by Mathematica. The analysis, funded by the Robert Wood Johnson Foundation, finds that more than 10 percent of SNAP households in 20 states would lose eligibility, including 18 percent of SNAP households in Wisconsin; 17 percent of SNAP households in North Dakota; 16 percent of SNAP households in Delaware, Iowa, Nevada, Oregon, and Washington; and 15 percent of SNAP households in Minnesota and Texas. Nearly 1 in 10 SNAP households nationwide—equal to 3.6 million people in the 2016 SNAP caseload—are slated to lose eligibility under the proposed rule.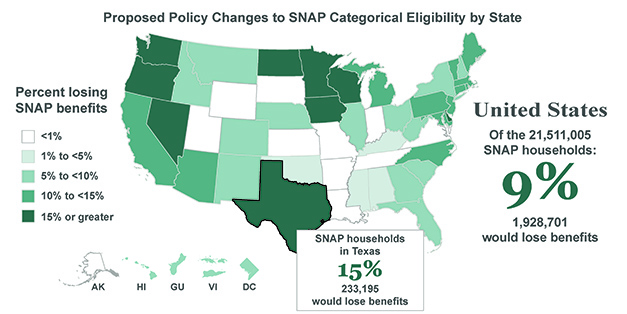 Click image to view data visualization.
The state-by-state data was released via an interactive data visualization, "Impact of Proposed Policy Changes to SNAP Categorical Eligibility by State," which uses SNAP quality control data from fiscal year 2016 and microsimulation modeling to provide detailed information on the demographic characteristics of those at risk of losing benefits. For example, in Texas, which has the highest number of households (233,195, equal to 389,342 people in its 2016 SNAP caseload) slated to lose benefits under the proposed rule:
171,696 households (74 percent of households slated to lose benefits) live in poverty.
65,983 households (28 percent of households slated to lose benefits) include children.
108,230 households (46 percent of households slated to lose benefits) include an elderly adult.
"Under the proposed rule, millions of vulnerable families will have an even harder time making ends meet and putting food on the table. This research shows that this pain will be felt in states across the nation," said Richard Besser, MD, president and CEO of the Robert Wood Johnson Foundation. "Any reforms to SNAP should reduce food insecurity, not exacerbate it. We urge USDA to withdraw this rule and reconsider its approach to SNAP."
Under current law, states may establish BBCE policies that enable households receiving a Temporary Assistance for Needy Families (TANF)-funded noncash benefit to qualify for SNAP by meeting the financial criteria of the TANF-funded program rather than federal SNAP criteria. Programs conferring BBCE may allow households with higher gross incomes, more countable resources (such as money in a bank account), or both, to qualify for SNAP benefits. Households that meet BBCE standards must meet SNAP's nonfinancial eligibility criteria, such as adhering to work requirements, and their benefits are determined under the same rules as other eligible households.
"Eliminating BBCE would mean millions of people currently receiving SNAP benefits would become ineligible. Using available data and microsimulation modeling, we break down the numbers and show the impact in each state for both individuals and households," said Sarah Lauffer, a senior research programmer at Mathematica. "This simulation gives policymakers insight into the populations potentially affected and allows them to plan for ways to address the needs that their states will face if the proposed rule takes effect."
USDA is accepting public comment on the proposed rule through September 23, 2019. Anyone may submit a comment via the Federal Register's web page.
About Mathematica
Mathematica is the insight partner that illuminates the path to progress for human services agencies. We apply expertise at the intersection of data, methods, policy, and practice, translating big questions into deep insights to improve programs. For more information, visit https://www.mathematica-mpr.com/our-focus-areas/human-services.
About the Robert Wood Johnson Foundation
For more than 45 years the Robert Wood Johnson Foundation has worked to improve health and health care. We are working alongside others to build a national Culture of Health that provides everyone in America a fair and just opportunity for health and well-being. For more information, visit www.rwjf.org. Follow the Foundation on Twitter at www.rwjf.org/twitter or on Facebook at www.rwjf.org/facebook.