International Research Topics
Food and Agriculture
Mathematica works closely with its partners to strengthen food security and agricultural development solutions for low- and middle-income countries.
Mathematica provides a range of services and tools to enable our partners to identify, measure, and evaluate innovative agriculture solutions and improve the livelihoods of tens of millions of the world's poorest and most vulnerable populations. We use rigorous experimental and quasi-experimental methods to assess the impact of agriculture and food security interventions, and conduct market systems assessments to generate evidence on how to integrate smallholder farmers into formal markets. We have experience deploying tools and building adaptive learning and resilience platforms to provide policymakers, foundations, and other partners with timely and actionable evidence. Our project teams use cutting edge machine learning and remote sensing data to estimate and build predictive models for crop type, land use, and yield.
Our international agriculture work spans a range of issue areas, including climate smart agriculture, food security and nutrition-sensitive agricultural interventions, women's empowerment in agriculture, land management and tenure security for farmers, livestock, irrigation system development, farmer trainings, and information and communications technology (ICT) for agricultural innovation.
To learn more about our work, explore our agriculture and food security projects or our blog series, Growing the Evidence.
Evidence & Insights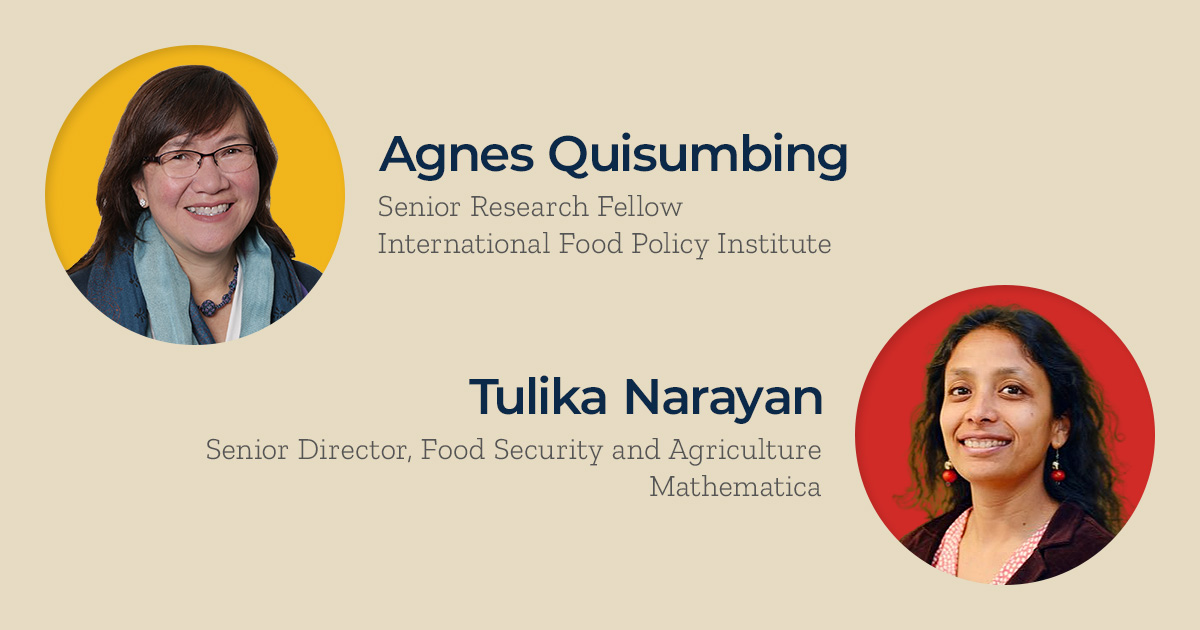 Event
Designing Agricultural Development Projects to Empower Women: A Conversation with Agnes Quisumbing
Women play an important role in nutrition-sensitive agricultural projects, and we need to learn more about the impact these projects have on improving women's empowerment and gender equality.
Learn more
Services & Products
Progress is best made together.
We believe in close partnership - whether you're a small non-profit or a federal government agency, we stick with you to help you see clearly and act quickly.
Partners In Progress
Tulika A. Narayan
Senior Director, Food Security and Agriculture
View Bio Page
Evan Borkum
Principal Researcher
View Bio Page
Sarah Hughes
Senior Fellow
View Bio Page
See Clearly. Act Quickly.
We can help you shine a spotlight through the dark. Get in touch to learn more about how Mathematica could help advance your mission.
Explore Partnership