Nutrition Topics
Nutrition Assistance Programs
We study all of the major U.S. food and nutrition assistance programs, including the Supplemental Nutrition Assistance Program, school meal programs, the Special Supplemental Nutrition Program for Women, Infants and Children (WIC), and the Administration on Aging's Nutrition Services Program. Our work informs development of nutrition policy, helping legislators and program administrators understand how changes in policy may affect participation, costs, and nutritional quality.
Evidence & Insights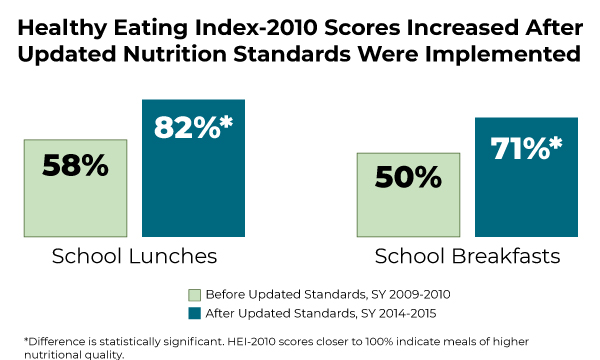 News
School Meals Are Healthier After Major Nutrition Reforms
The first comprehensive national study of the school meal programs following major reforms prompted by the Healthy, Hunger-Free Kids Act of 2010 found that school meals are healthier than they were before the reforms and that students are eating the healthier meals.
Learn more
Solutions
Progress is best made together.
Partner with us at the intersection of data science, social science, and technology to progress from inquiry to insight to impact. Our evidence-informed solutions empower you to see clearly and act quickly.
Partners In Progress
John Carsley
Lead Software Engineer
View Bio Page
Phillip Killewald
Lead Data Scientist
View Bio Page
Nora Paxton
Director, Data Analytics
View Bio Page
See Clearly. Act Quickly.
Our experts can help you make smart, sustainable decisions. From local to global challenges in health, human services, and international development, we're here to improve public well-being and make progress together.
Explore Partnership