Facilitating the Use of Data and Evidence Among Government Agencies
The Foundations for Evidence-Based Policymaking Act (Evidence Act) was signed into law on January 14, 2019. This legislation promotes several key recommendations of the Evidence-Based Policymaking Commission and drives home the commission's vision of "a future in which rigorous evidence is created efficiently, as a routine part of government operations, and used to construct effective public policy." It has paved the way for a broader federal data strategy, requiring federal agencies to submit plans for coordinating evidence-building activities across the government. To meet requirements of the Evidence Act, the Office of Management and Budget (OMB) released guidance on evaluation practices in federal agencies. This OMB memo provides program evaluation standards to guide agencies in developing and implementing evaluation activities and opportunities for promoting evidence to support policymaking.
As more agencies are implementing key provisions of the Evidence Act, Mathematica is pleased to share many of the tools, reports, dashboards, and other resources now available to help facilitate the use of evidence and improve public well-being.
"Evidence-based policymaking isn't just an approach that holds great potential, it is part of our government's promise to us as a good steward of our collective resources—to invest in what works and fix what doesn't. "
Establishing Partners in Progress
We're helping federal agencies build learning agendas and evaluation plans. This recent webinar series and summary report reflect the array of strategies federal agencies used to create and implement evidence-building and evaluation plans (that is, learning agendas) in response to the Evidence Act. Mathematica experts have also partnered with Grant Thornton Public Sector and ABS Group to support the Department of Homeland Security's Cybersecurity and Infrastructure Security Agency (CISA) in building a strong evaluation capability and evidence base to support data-driven programming, policies, decisions, and resource allocations. We will provide expert knowledge and experience to conceptualize, plan, and conduct program evaluations, as well as other types of analyses and data collection efforts linked to CISA's learning agenda and evaluation plan. Our partnership extends to work with the U.S. Department of Health and Human Services, Administration for Children and Families, Division of Data and Improvement, where we're helping respond to opportunities created by the Evidence Act.
Together with our federal partners, we're bringing our knowledge of policy and practice to agencies looking to build their capabilities in generating, interpreting, and applying evidence. Our team has also:
Offered insights to the Advisory Committee on Data for Evidence Building describes the challenges and opportunities inherent in using data and evidence to support informed decision making.
Helped improve program outcomes via evidence-based technical assistance through initiatives known as Project IMPROVE and Project AWESOME. We're helping state, tribal, and local Temporary Assistance for Needy Families agencies embed evaluation and learning into decisions about policy and practice.
Created the Pathways to Work Evidence Clearinghouse, which identifies projects that aim to improve employment outcomes, reduce employment challenges, and support self-sufficiency for individuals with low incomes. The Clearinghouse features a user-friendly website that provides tools and products to help policymakers assess the overall state of the evidence.
Collaborated with the Centers for Medicare & Medicaid Services on the DQ (Data Quality) Atlas, a new tool for policymakers, analysts, researchers, and other stakeholders who want to use administrative data to conduct insightful, methodologically sound analyses of Medicaid and the Children's Health Insurance Program. An interactive web-based tool, DQ Atlas gives users accurate, extensive information on the quality of program data on enrollment, claims, expenditures, and service use.
Worked with the U.S. Department of Agriculture's Food and Nutrition Service (FNS) to develop a rapid-cycle evaluation framework for Supplemental Nutrition Assistance Program Employment and Training funds. Together with our FNS partners, we will explore how technical assistance and data collection might help states determine readiness for work.
Together with our federal partners, we're bringing our knowledge of policy and practice to agencies looking to build their capabilities in generating, interpreting, and applying evidence.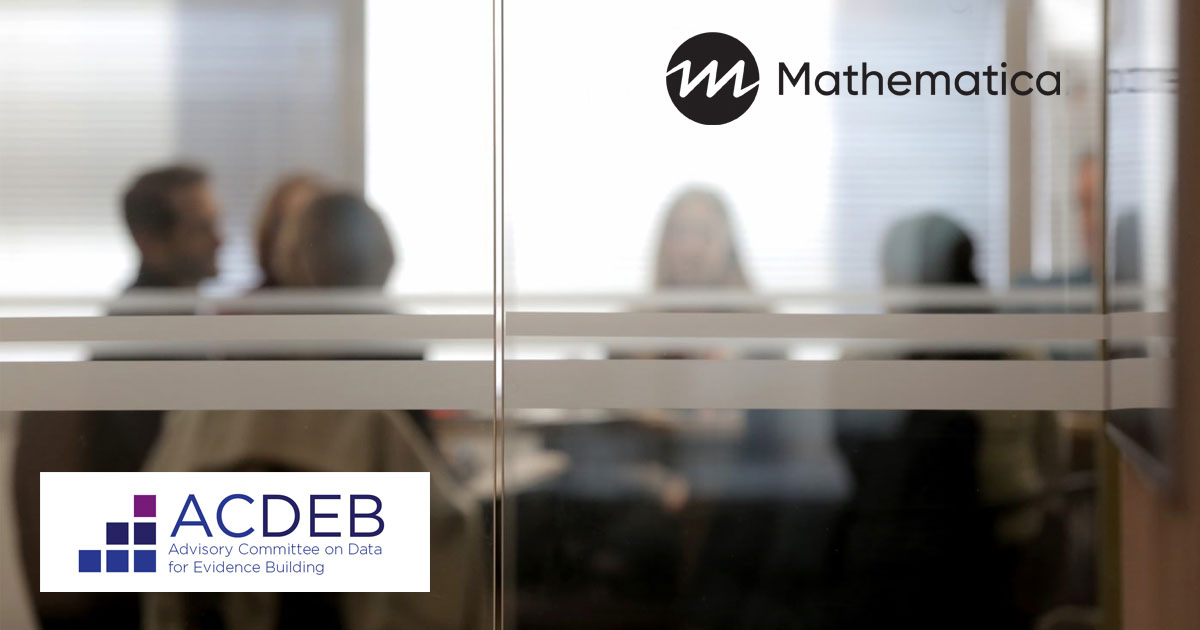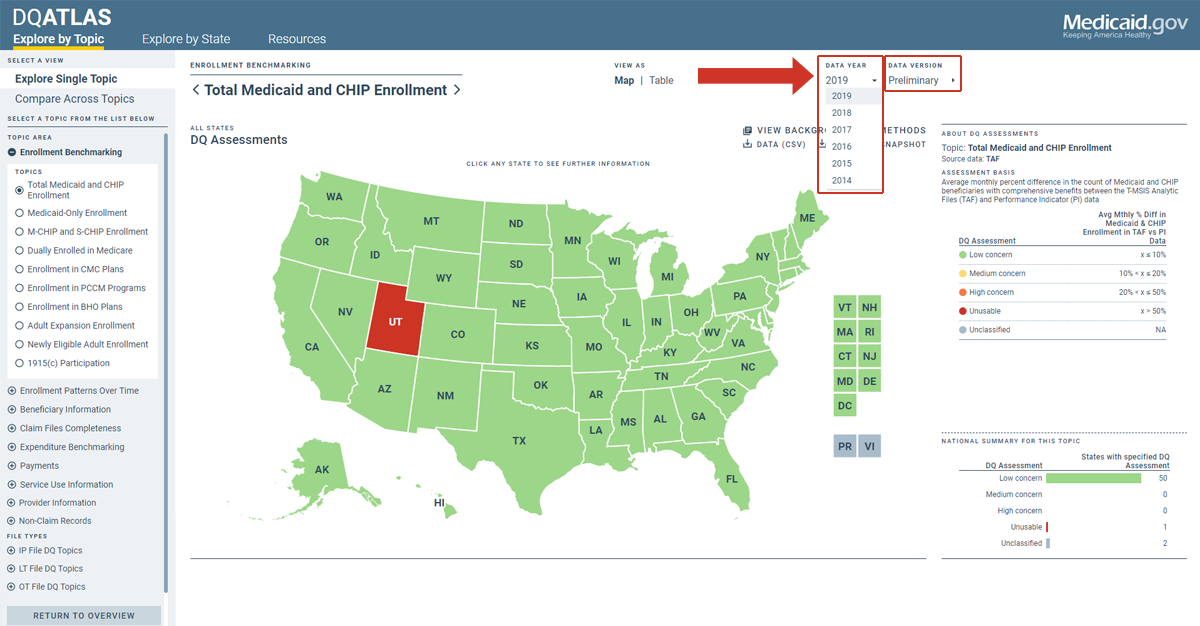 Advancing Children's Health and Well-Being
We're using data to support the health and well-being of children and families. State approaches to reducing child poverty vary considerably. Mathematica experts are collecting and analyzing data to estimate how child poverty could be ameliorated if all states adopted the most generous or inclusive states' policies. The project, Reducing Poverty Among Children: Evidence from State Policy Simulations, for example, uses data to help assess these policies. Overall, if every state applied the same generous or inclusive methodology in four key policy areas, the child poverty rate would decrease by 2.5 percentage points, and five and a half million children would be lifted out of poverty. We are also engaging in the following work:
Studying predictive risk modeling for child protection. Flooded with calls and short on resources, Child Protective Services (CPS) systems are struggling to identify and protect children at risk. Mathematica is working with our partners at the Centre for Social Data Analytics to create predictive risk models that can help CPS workers navigate an environment where it is hard to separate "noise" from "signal."
Working closely with the Office of Population Affairs (OPA) to help the Title X Family Planning Services Grant Program successfully transition to a new data reporting system. We're offering training and technical assistance on the new system, helping OPA strengthen a learning agenda for grantees.
Administering the Regional Educational Laboratory (REL) for the mid-Atlantic region. REL works with school districts, state and local education agencies, and other relevant stakeholders to support the use of evidence in improving academic outcomes for students.
Helping State and Local Governments Improve Programs
We've developed partnerships to help state and local governments improve programs. When using data and evidence to improve programs, state and local governments face challenges, such as complex regulatory environments, limited fiscal and staff resources, and shifting political environments, which can undermine sustainable change. We're working with human services and workforce agencies in Colorado, Massachusetts, Michigan, Vermont, and Pennsylvania, among others, to introduce a change management framework known as Learn, Innovate, Improve (LI2). Here are some examples of how we're partnering with state and local governments: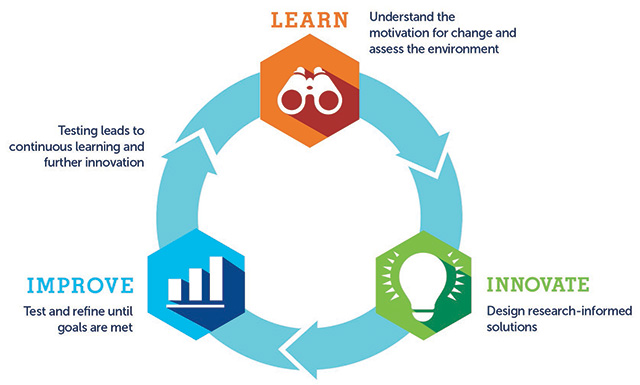 Govern with Confidence
Learn more about how the Evidence Act is transforming government decision making by watching a video recording of Mathematica's October 21 event, Govern with Confidence: Tools for High-Stakes Decision Making During COVID-19.
This essential discussion shed light on available tools, resources, and strategies to quickly make data-driven decisions. Policymakers and experts shared insights from their experiences during the pandemic, focusing on synergies among three main topics: (1) workforce planning, (2) public health equity, and (3) education readiness.
Mathematica is a proud leader in the evidence community, dedicated to improving public well-being by informing policies and programs with objective evidence.
When the Commission for Evidence-Based Policymaking released its 2017 recommendations, our President and Chief Executive Officer, Paul Decker, wrote that the report was "a crucial step forward in charting a course, but what comes next will determine whether we can deliver on the true promise of evidence-based policymaking." And to explore the question of what would come next, Mathematica Senior Fellow Sheena McConnell interviewed Commission Cochair Katharine Abraham. Watch the full video here. As implementation of the Evidence Act continues, our experts will inform and participate in conversations throughout the state and federal government.
Discover More Ways that Mathematica Supports Evidence Act Implementation
To read more about our work or to connect with a Mathematica expert, please contact our public affairs team at info@mathematica-mpr.com or call us at (202) 552-6405. For the most up to date news in real time, follow us on Twitter or Instagram using @MathematicaNow.