Over the past decade, hackathons have become mainstream approaches for energizing teams of programmers, designers, and researchers to develop solutions for complex problems in a condensed time period (typically 24 to 48 hours). The goal of hackathons is to generate ideas and develop plausible solutions, typically in the form of digital interfaces. Teams can then further refine their solution after the hackathon ends. In the wake of COVID-19, the urgency to act efficiently and wisely has sparked several hackathons worldwide, including UNESCO's CodeTheCurve and the Massachusetts Institute of Technology's COVID-19 Challenge, which brought together participants from around the world to dedicate a few days to work in small teams.
Like so many other companies, Mathematica has turned to virtual tools to connect and support one another as we adjust to life changes caused by COVID-19. We have a variety of established online communities where employees can exchange ideas and find help on specific subjects and projects. As global hackathons like the ones mentioned earlier gained steam, they also started appearing in conversations among staff, with many of us looking for an opportunity to contribute to COVID-related initiatives and to connect with one other.
As an organization that has worked in public health for decades, we're used to pivoting quickly to meet the urgent need for data and tools for states, health care decision makers, providers, and the public. We saw the value in participating in these global hackathons, but the more we chatted, the more we also wanted to create our own uniquely Mathematica event. For us, it was a chance to contribute to the overall effort related to COVID-19, but also an opportunity to build new relationships with staff we don't typically work with, promote the ideas of others, and encourage staff to leverage their creativity to think about problems.
With COVID-19 creating challenges for everybody, we needed the event to be painless and stress free. We surveyed staff who expressed an interest to determine the most convenient time and the areas of interest. We had a virtual brainstorm and then created a living document in which staff could pitch project topics. We also reached out to others in the company to get project ideas. We decided to break up into teams of four to six based on a combination of staff interest and organizer judgement. Although staff could express preference for a topic, the organizers considered technical and subject-matter expertise, focus areas, and geography when determining the teams. This allowed us to foster working relationships beyond our typical project work or office locations.
Dubbed Hackematica, the event kicked off on the morning of April 4 with 16 participants that were enthusiastic, energetic, and ready to rumble. Because we had staff from across many different offices, time zones, departments, and areas of expertise, we did quick introductions and split up into our teams for the next few hours. Throughout the day, teams communicated through WebEx, Jabber, and email to create their final deliverable. We had three teams that each explored a different problem: (1) how can we calculate the risk of COVID-19 based on adverse health outcomes?; (2) how can we balance the competing needs of COVID-19 and selective surgery while maximizing health gains under the constraints of health care resources?; (3) and how can we address the growing spread of misinformation regarding COVID-19 to mitigate extremism? After five hours of brainstorming, designing, hacking, coding, and inventing, the groups turned their webcams on and proudly entered the WebEx meeting to present their final pitch:
19 and Me. This individualized risk calculator estimates a user's risk of COVID-19 and adverse health outcomes using geographically resolved case data, latest scientific research, and user input about health behaviors and susceptibility. The tool is intended for individual community members in the United States who are concerned about their risk factors for COVID-19. Users can assess their individual risks by entering a ZIP code and answering a few questions about baseline health conditions and health behaviors (such as practicing social distancing, handwashing, wearing facial masks, and so on). The app provides an easy-to-understand risk score and a few recommendations on how individuals can reduce their risk of contracting COVID-19. This app is live at https://19andme.covid19.mathematica.org.
View Terms and Conditions
Terms of Use
These Terms of Use (the "Terms") govern your access to and use of the COVID-19 Risk Score Calculator tool (the "Tool"). By using the Tool, you agree to these Terms. If you do not agree to them, do not participate in the use of the Tool.
Limited Use
Mathematica Inc. ("Mathematica" or "we") has developed this Tool which provides you with an estimation of your personal susceptibility or risk of contracting COVID 19 based on the information you input into the Tool. You may use the Tool for personal and informational purposes. Any other use of the tool is governed by the MIT License
The Tool does not provide medical advice and cannot be used by you to diagnose or treat any medical condition.
We do not retain any information that you provide in connection with your use of the Tool.
Disclaimer of Warranties
USE OF THE TOOL IS ON AN "AS IS" BASIS AT YOUR OWN RISK. MATHEMATICA DOES NOT WARRANT OR MAKE ANY REPRESENTATIONS REGARDING THE USE OR THE RESULTS OF THE TOOL, ITS ACCURACY, SECURITY, FUNCTIONALITY, AVAILABILITY, OR THAT IT WILL OPERATE WITHOUT INTERRUPTION OR BE ERROR-FREE. MATHEMATICA HEREBY DISCLAIMS ALL WARRANTIES, WHETHER EXPRESS, IMPLIED, STATUTORY, OR OTHERWISE, INCLUDING ALL IMPLIED WARRANTIES OF MERCHANTABILITY, FITNESS FOR A PARTICULAR PURPOSE, TITLE, AND NON-INFRINGEMENT.
Limitation of Liability
TO THE FULLEST EXTENT ALLOWED BY APPLICATBLE LAW, IN NO EVENT SHALL MATHEMATICA BE LIABLE FOR ANY DIRECT, INDIRECT, INCIDENTAL, SPECIAL, EXEMPLARY, OR CONSEQUENTIAL DAMAGES (INCLUDING, BUT NOT LIMITED TO: LOSS OF USE OR PROFITS) HOWEVER CAUSED AND ON ANY THEORY OF LIABILITY, WHETHER IN CONTRACT, STRICT LIABILITY, OR TORT (INCLUDING NEGLIGENCE OR OTHERWISE) ARISING IN ANY WAY OUT OF THE USE OF THE TOOL, EVEN IF ADVISED OF THE POSSIBILITY OF SUCH DAMAGE. IN NO EVENT WILL MATHEMATICA'S AGGREGATE LIABILITY FOR ANY AND ALL CLAIMS RELATING TO THE TOOL EXCEED ONE HUNDRED U.S. DOLLARS (U.S. $100.00).
Termination
We may suspend or discontinue offering the Tool at any time. You are free to stop using the Tool at any time. We may also terminate your use of the Tool for any reason, in our discretion. After any such termination, these Terms will continue to apply with respect to any prior use of the Tool.
Trademarks
The Mathematica name and logo and all related names, logos, product and service names, designs, and slogans are trademarks of Mathematica. You must not use such marks without Mathematica's prior written permission.
Changes to Terms and Notification
We may revise these Terms from time to time, at our sole discretion, effective immediately. We may notify you of changes by posting an updated version of the Terms where we posted previous versions. By continuing to access or use the Tool after revisions become effective, you agree to be bound by the revised Terms. If you do not agree to the new terms, you must stop using the Tool.
Governing Law and Jurisdiction
These Terms and any claim or dispute arising out of or relating to the Tool or these Terms ("Dispute") will be governed by the laws of the State of New Jersey, without respect to its conflict of laws principles. The exclusive place of jurisdiction for all Disputes is Mercer County, New Jersey, or the United States District Court for the District of New Jersey.
Arbitration
In the event of any Dispute, you agree to first contact Mathematica and try to resolve the Dispute with us informally. If we haven't been able to resolve the dispute with you informally, we each agree to resolve any Dispute binding arbitration or, with respect to Disputes that qualify for U.S. small claims court, in U.S. small claims court.
The Federal Arbitration Act and federal arbitration law apply to these Terms. There is no judge or jury in arbitration and court review of an arbitration award is limited. It is important that you understand that the arbitrator's decision will be binding and may be entered as a judgment in any court of competent jurisdiction.
To begin an arbitration proceeding, you must send a letter requesting arbitration and describing your claim to us at the address at the end of these Terms. The arbitration will be conducted by the American Arbitration Association ("AAA") under its rules, including the AAA's Supplementary Procedures for Consumer-Related Disputes. The AAA's rules are available at www.adr.org. Payment of all filing, administration and arbitrator fees will be governed by the AAA's rules. We will reimburse those fees for claims totaling less than $10,000 unless the arbitrator determines the claims are frivolous. Likewise, we will not seek attorneys' fees and costs in arbitration unless the arbitrator determines the claims are frivolous. You may choose to have the arbitration conducted by telephone, based on written submissions, or in person in the county where you live or at another mutually agreed location. Nothing in this Section shall prevent either party from seeking injunctive or other equitable relief from the courts, including for matters related to intellectual property or violations of these Terms.
ALL CLAIMS MUST BE BROUGHT IN THE PARTIES' INDIVIDUAL CAPACITY, AND NOT AS A PLAINTIFF OR CLASS MEMBER IN ANY PURPORTED CLASS OR OTHER REPRESENTATIVE PROCEEDING AND, UNLESS WE AGREE OTHERWISE, THE ARBITRATOR MAY NOT CONSOLIDATE MORE THAN ONE PERSON'S CLAIMS. YOU AGREE THAT, BY ENTERING INTO THESE TERMS, YOU AND WE ARE EACH WAIVING THE RIGHT TO A TRIAL BY JURY OR TO PARTICIPATE IN A CLASS ACTION. NOTHING IN THESE TERMS SHALL AFFECT ANY STATUTORY RIGHTS THAT APPLY TO YOU IF AND TO THE EXTENT THAT SUCH RIGHTS CANNOT EFFECTIVELY BE WAIVED OR THAT A WAIVER WOULD VIOLATE MANDATORY APPLICABLE LAW. To the extent any Dispute isn't arbitrable under applicable laws or otherwise, such Dispute shall be resolved in accordance with the other sections of these Terms.
Miscellaneous
The failure of either you or Mathematica to exercise in any way, any right in these Terms shall not be deemed a waiver of any further rights hereunder. If any provision in these Terms is illegal or unenforceable, the provision will be limited or eliminated to the minimum extent necessary and all other provisions of this Agreement will continue in full force and effect. These Terms constitute the entire agreement between you and Mathematica concerning the Tool and supersede any additional or prior agreements.
Contact Information
Questions regarding these Terms should be directed to Mathematica legal@mathematica-mpr.com or by contacting us at:
Mathematica Inc.
Attn: Legal Dept
P.O. Box 2393
Princeton, NJ 08543-2393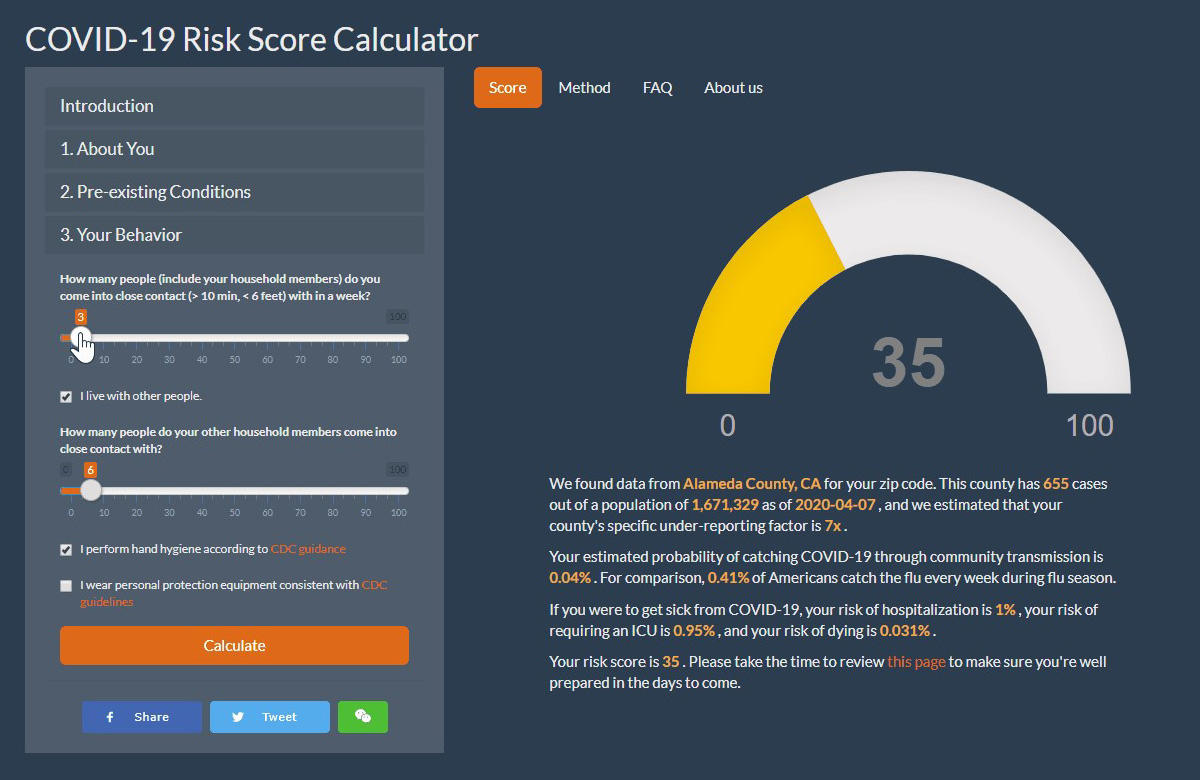 A patient risk score calculator for elective surgery. This dashboard is intended to help hospitals and decision makers such as state Medicaid agencies assess the impact on hospitals of different policies regarding conducting elective surgeries during COVID-19.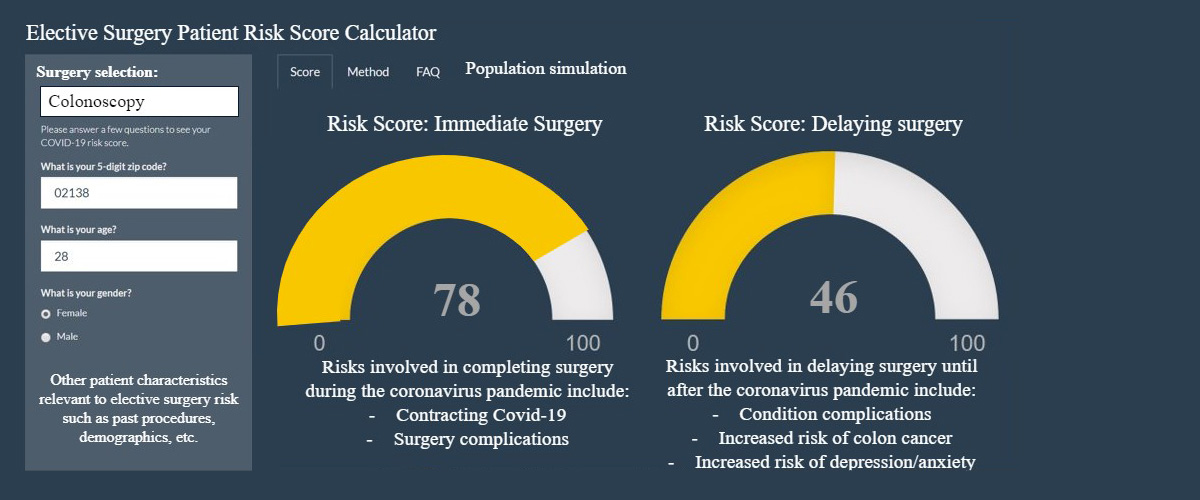 Social media misinformation scoring rubric. This framework for a rubric helps social media sites and policymakers assess the extent to which a social media site takes proactive efforts to combat the spread of misinformation related to policy and health issues. The rubric scores social media platforms based on whether the site's algorithm and community rules promote transparency and accuracy. This tool could help policymakers identify and address areas of misinformation and help hold media sites accountable.

After the presentations, we voted on which project participants preferred, with 19 and Me coming out on top. The criteria for voting included the plausibility of turning the pitch into a long-term project and overall presentation quality.
Since the hackathon, we've continued to refine 19 and Me. We're also thinking about how to improve our approach for another hackathon in mid-May. We plan to open the next event to the whole company, send more project ideas, and continue to build on the three projects we started during our first event.