About Mathematica
Culture
Mathematica is a collaborative, inquisitive, and inclusive company.
We're subject-matter experts located across the country and around the world who bring a wide range of backgrounds, experiences, and perspectives to the work we do. With a deep commitment to listening and learning, we believe in making progress together—with our clients, colleagues, and community partners. And because our company is employee-owned, we not only share a passion for our work, we also share a stake in its outcome.
Our Core Values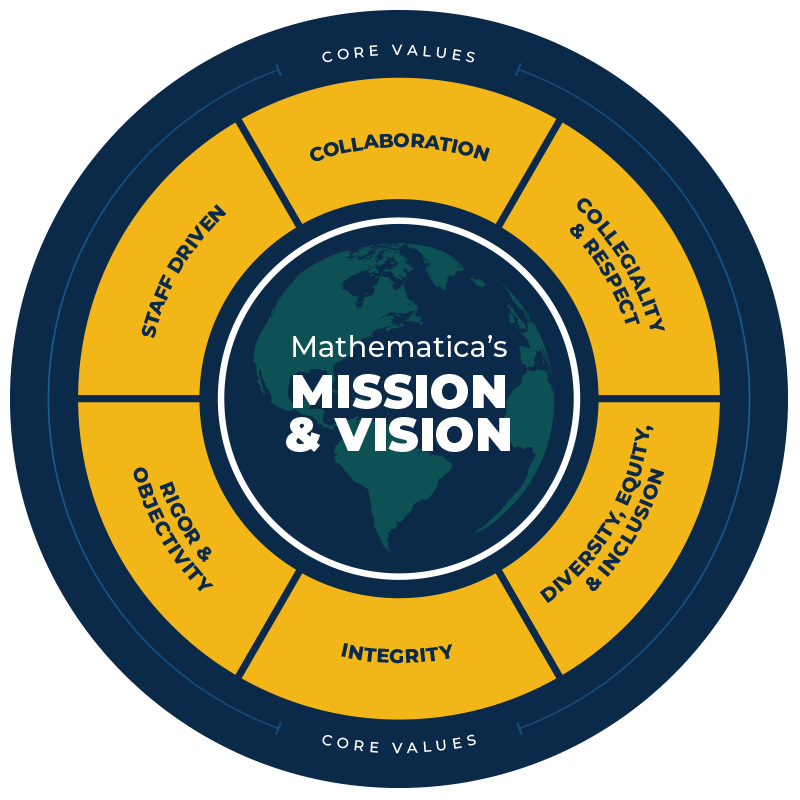 These values and fundamentals are the practices that ensure we live up to our ideals as an organization dedicated to collaboration and inclusivity. They make us unique. And they are an essential part of the work we do with clients and partners to improve public well-being through evidence-based decisions and a commitment to equity.
Diversity, Equity, and Inclusion
We know insights that lead to impact begin with fresh perspectives and draw on diverse networks. Equity-informed and culturally responsive practices are fundamental to the professional services we offer in research, consulting, and technical assistance. Learn more about our Diversity, Equity, and Inclusion Journey.
We work to advance equity every day.
Giving Back Where We Live and Work
Not only do we strive to enhance well-being around the world in our day-to-day operations, Mathematica staff across the U.S. volunteer in the communities where we live and work. You'll find our staff working in soup kitchens and food pantries, building homes for the homeless, mentoring at-risk youth, and lending their professional expertise and skills to projects like evaluation design and website programming to organizations that aim to improve public well-being.
Mathematica recognizes these efforts through a corporate giving philosophy that translates volunteer work hours into direct financial support to each organization. Together, through sweat equity and direct support, we are making a difference.